The SAP digital grocery ecosystem
Evolving consumer attitudes and behaviors, rapid technological advances, new competitive pressures, and the COVID-19 pandemic have accelerated the pace of digital transformation.
We have heard the same things said about nearly every industry over the past 12 to 18 months: Evolving consumer attitudes and behaviors, rapid technological advances, new competitive pressures, and the COVID-19 pandemic have accelerated the pace of digital transformation. This is true for the grocery industry, but the details of what is required combined with margin pressures make the journey a bit trickier. I will explain by starting with the following diagram representing the digital grocery ecosystem: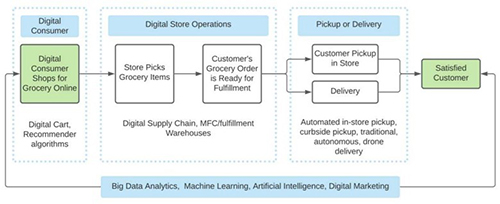 Customer demands call for investments in software and infrastructure
Pre-pandemic, brick-and-mortar grocers had already started to make investments in digitalization and automation in response to changing consumer preferences and to remain profitable. The pandemic accelerated this trend significantly with no signs of a return to "normal." Consumers demand a user-friendly mobile shopping experience. They want to know that their favorite items are in stock (or can be obtained) and when their items will be ready for pickup or delivered.
To meet consumer demands, grocers need the software and infrastructure required for real-time inventory management, third-party logistics management, cash flow management, and personalized customer experience management. This requires powerful analytics capabilities to combine structured and unstructured data to measure success and drive cost reductions and greater profitability while simultaneously keeping prices to the end consumer low.
Combating food waste in supply chains through technological innovations
Waste is also a problem in the grocery industry, with an estimated 30% of produce and upwards of 40% of beauty products being thrown away (Tarsus Group, 2022). Retailers desperately need to automate food expiration management at their stores. They must go deeper into their supply chains and "implement 'dwell time' measurements to boost the speed with which items move through warehouses and distribution centers to arrive in stores with longer shelf lives" (Tarsus Group, 2022).

SAP supports the evolution of the digital grocery ecosystem. The capabilities of SAP S/4HANA allow retailers to track and manage the path of their products from "farm to fork." This process can be further supported by blockchain technology solutions such as SAP's GreenToken. SAP IS-Retail provides robust solutions for retail marketing and customer experience, merchandising, sourcing and procurement, supply chain, and omnichannel retail and store operations.
Five roadblocks in the way of becoming a data-driven grocer
These requirements, challenges, and solutions require data – lots of data – and that data must be accurate and provided in real time. The aspiration to become a digital grocer is based on enabling data-driven decision-making. There are many articles about how data-driven decision-making companies are more productive, more profitable, and show a higher return on their physical assets. This is welcome news for the grocery industry because their profit margins are only 1% to 3% on sales and 3% on return-on-assets. Grocers understand the potential benefits from insightful data, but they face roadblocks beyond the lack of investment capital:
Technologies such as AI and machine learning are not cheap and can become exponentially more expensive if applied either incorrectly or prematurely.
There are many hidden costs of big data which are often overlooked, including inefficient data integration, poor data quality, unnecessary backups, lack of training/education, and networking costs (Tozzi, 2022).
Salaries for data scientists are not cheap – upwards of USD 200,000 in the Jersey City area, for example, before adding 35% for overhead and benefits (Salary.com, 2022).
With 57% of IT staff focused on maintaining legacy applications, they have little bandwidth to think creatively or acquire new skills (Accenture, 2023).
70% of digital transformation projects fail due to, in part, poor adoption of new technologies, lack of realistic goals, and poor data quality (Rohn, 2022; Farah, 2020).
Another potentially costly mistake which is not specific to the grocery industry is leaping toward complex functional transformation projects without establishing a strong, clean digital core. Despite many articles from the first half of 2022 trumpeting the major changes and benefits IoT will bring to the grocery industry, we learned in the second half of 2022 that three major IoT platforms run by IBM, SAP, and Google are closing shop. What does this tell us? Quite simply, there is a rush to the complex end game without doing the fundamental transformation work up front.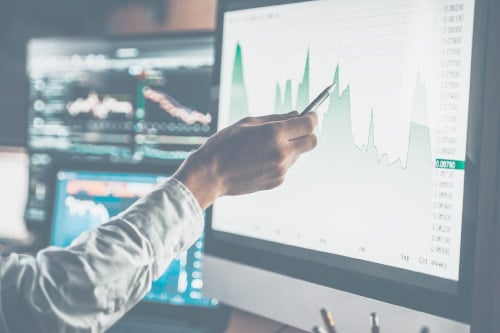 Grocers cannot afford to make mistakes with digital transformation
If you are a retailer running SAP and want to make the digital grocery ecosystem a reality, you must start by performing critical yet foundational work to establish a clean digital core. Ideally, this core will be cloud-based and ready to integrate with internal systems, supply chain partners, third-party players, and your customers. This will require thinking about and asking the following questions, among others:
What is my budget, time, and resource constraint?
Do I have clean, harmonized data that is fit for analytics or AI?
What is the cost of downtime and how much can I afford?
How will data need to be synchronized across my systems?
How should data archiving and system decommissioning be factored into my plans?
How aligned are my current business processes with SAP best practices?
What approach will make my auditor happy (if publicly traded)?
SNP has the answers to these questions: Answers based on decades of experience combined with forward-thinking insights, and answers that will best suit your corporate culture and desired outcomes. In a single go-live driven by software automation, SNP can support your transition to your new clean core (including any prerequisite projects), selective data migration, archiving and decommissioning activities, cloud move, and more. Put the foundation in place for strategic business transformation while lowering total cost of ownership. With SNP, speed plus low-cost does not equal high-risk plus data integrity loss.
SNP has a proven track record of supporting grocers with innovating their SAP systems
Grocery retailers who run SAP today are fortunate that they do not have to struggle on their own. SNP has the largest resume of successes in the industry. If you have not made the move to the cloud or S/4HANA, you can benefit from our deep hands-on experience. Here are just a few examples:
SNP has more success stories in this industry around the world. The point is that the business case can be made for grocers to either make the move to S/4HANA and the cloud now or make the preparations to do so. Historically, this was not the case for the grocery industry because the approach involved too many people and too much uncertainty. This has become routine for SNP, so much so that we are able to maximize the benefits of automation for low-cost, low-risk delivery and to provide these benefits consistently.
References
Dreisbach, D. and Melnik, D. (2022). Three Trends Grocery Retailers Should Have on Their Radar. SAP. Retrieved February 1, 2023

Ghosh, A. (2022). Why Google, IBM and SAP are Closing Their IoT Platforms. The Customize Windows. Retrieved January 29, 2023