Edición 2023: cómo hacer que tu migración a SAP S/4HANA® sea un éxito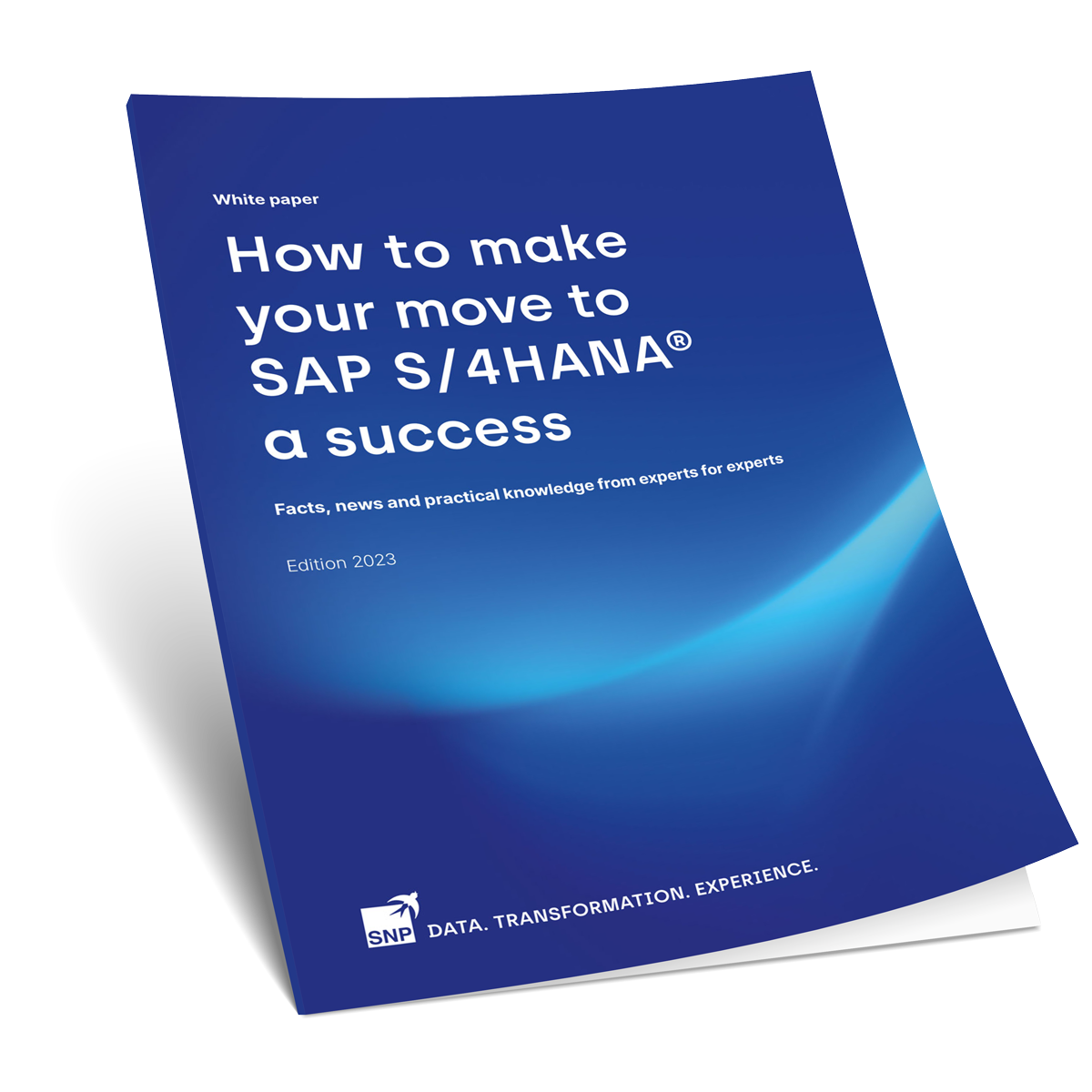 Obtén respuestas a las preguntas más relevantes para tu migración a SAP S/4HANA y mucho más en la nueva edición de nuestro whitepaper.
No sólo presenta hechos cruciales y las últimas noticias, sino que también te proporcionará conocimientos prácticos para navegar para tu viaje de migración. Nuestro whitepaper contiene una gran cantidad de información, cuidadosamente seleccionada por expertos del sector para expertos como tú.
Aprende lo que se debe y no se debe hacer, adelántate a las tendencias y conoce proyectos de transformación reales. Actualizamos nuestro estudio sobre el estado actual de la migración a SAP S/4HANA, centrado en la motivación, el timing y el enfoque. No te pierdas el análisis de más de 2 000 sistemas SAP y lo que eso significa para las optimizaciones y modernizaciones de los mismos.
Ofrecemos una guía para el viaje flexible y basado en software a SAP S/4HANA, y una evaluación de los enfoques de transformación habituales. Si estás planificando la migración a SAP S/4HANA, este whitepaper es imprescindible. Está diseñado para ayudar a todos los clientes de SAP, tanto si ya están en el camino como si lo tienen en el horizonte.
Motivation: Why are companies moving to SAP S/4HANA?
The current survey results emphasize that SAP S/4HANA is perceived as a strategic basis for further innovations and technological leaps.
Why companies are migrating to SAP S/4HANA

Timing: When are companies tackling the SAP S/4HANA transformation?
More than one in three of the SAP customers surveyed in the CEU market have now migrated to SAP S/4HANA. At least another third are in the planning phase, indicating that the migration project is generally going to happen – with only the timing up for debate.
Where do companies stand with their SAP S/4HANA migrations?
Approach: Which migration strategy do decision-makers choose?
The strengths of hybrid models – also known as the selective data transition approach – are becoming increasingly clear. In 2023, around a third of those surveyed in the PAC study describe the selective (hybrid) strategy as their preferred approach. For companies with revenues of EUR 1 billion or more, 45% are pursuing the selective or hybrid strategy (Research Services by Foundry 2022).
The greenfield approach is making a bit of a comeback: According to valantic (2023), 28% of the companies surveyed from the DACH region chose the greenfield approach, while the figure is as high as 44% in Europe as a whole (PAC 2023).
The various forms of the brownfield approach also remain an attractive option for some companies. Throughout Europe, a quarter of those surveyed opt for this approach (PAC 2023). In the German-speaking world, the trend is towards an extended brownfield approach that involves a more technical migration comprised of improvement and optimization initiatives.